DAY 0: Rochester to Somewhere on I-91
"And everything you thought was so important doesn't matter,
All you need to understand is, everything you know is wrong!
(Weird Al Yankovic, "Everything You Know Is Wrong")
I'd never felt this way in the days before an Adirondack climb. This used to be my favorite time of year, I'd count down the days starting in February, even January, look to the maps for inspiration, read everything I could about the trails (and forget it all), obsess over gear with the inevitable conclusion I didn't need whatever it was anyway even if I already bought it. There's a spreadsheet on my computer I hadn't opened in years, with mileages and directions and routes and snowfall/melt graphs from when I thought I knew what I was doing, when it was just me and Christian against the mountains, going back for our yearly smackdown every May, starting the summer with a few new summits and a healthy dose of humility instead of the record for the fastest 46, or even a single-season 46 as we'd dreamed of.
Weekend before last, I went up by myself for a night hike and revisited Dial and Nippletop to get #41 back after I'd missed one of the nipples the first time around and left her unfulfilled. But that really just felt like an ordinary day in the peaks – sure it had been three years since I'd stood on a summit, but there was no feeling of impending doom. I didn't have to wonder if the mountain would win; maybe it even would, and so what? If that's the case, maybe I just wasn't meant to finish. But that one went almost too well, and there I was, two weeks from being a 46er, then one week, then three days.
At least I had a solid plan. I'd start from the Loj on Thursday night, and just hike and climb straight through until I was a 46er, probably finishing sometime Saturday morning after a 36 hour sufferfest, with the last peaks being Allen, Marshall, Iroquois, Algonquin and Wright — not the easiest mix in any circumstances, let alone trying to string them into one epic.
When it finally came time to leave, everything that could go wrong did, and then some. I thought I found the solution with a cheap last-minute Cessna flight from Albany to Saranac Lake that would have had me on trail by 8pm, but that plan went bust in the Rochester train station, watching my train fail to arrive, so I was back to plan A. My next route to the high peaks, through New York and Montreal, was so awful I continued to look for any way I could to fix it and get there in something less than 13 hours. And back to the airport, where (of course) my hiking pack got a special twice-over from the TSA, which didn't matter one bit as the flight was already delayed over an hour, setting up an "Amazing Race" maneuver from LaGuardia to Penn Station. We boarded the plane just in time, started taxiing to the runway, and turned right around… there was a flat tire in the landing gear, and we had to deplane while they fixed it – an hour delay.
That's probably where I should have given up, but I just kept making more plans, buying more tickets, and digging myself deeper. I got to LaGuardia not only too late to miss the train, that was a given, but also missed my backup, a bus to Montreal via Plattsburgh. The only way to fix this one was to go to Port Authority, the armpit of Western Civilization, and try to get a refund and/or exchange. After an ironic detour to Times Square, I got put on a bus to Burlington, which was at least in the right direction, and knowing that I was more or less headed north, listened to Phish until I fell asleep…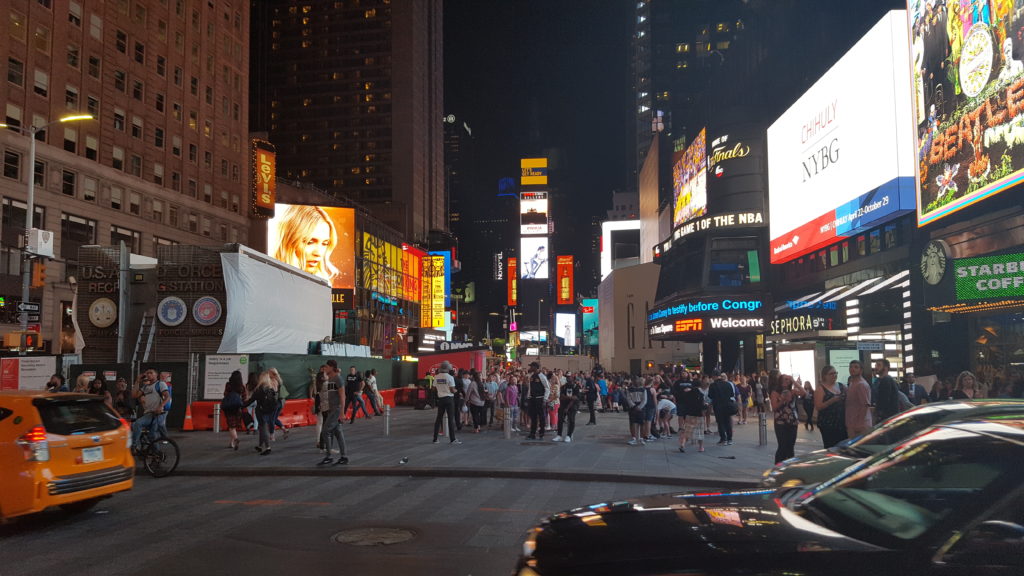 DAY 1: Burlington to Allen Register
"This I will recall, every time I fall:
I'm free! Setting forth in the universe,
I'm here!"
(Eddie Vedder, "Into The Wild" score)
From Burlington it was only supposed to get easier: three local buses and a ferry, from Burlington to Plattsburgh to Lake Placid. After I missed the first bus, things actually did go somewhat smoothly. It still took almost three hours to get to Placid, but at least I got there — and picked up a hitchhiker along the way, inasmuch as someone without a car could do so.
Joshua was on an adventure of his own, trying to get back to Minnesota in as outdoorsy a way as possible, checking out the northern states and Canada over a few weeks. I figured since I'm not the fastest hiker, and the high peaks were right there, maybe I should at least show him Avalanche Pass and Lake Colden. He stuck with me as far as Lake Placid village, but it wouldn't be one of my adventures without another setback to screw everything up all over again. What was supposed to be the easiest step, calling for a $20, 15-minute taxi ride from Olympic Center to the Loj, turned out to be one of the biggest obstacles of all. Apparently, on an off-season weekday, Placid has exactly one taxi driver, and he had just left to bring someone all the way up to Montreal, and wouldn't be back for at least four hours! Looking at the near inevitability of being stuck in Placid, we went to Olympic Center to try to ask for help at the tourist info booth (hopefully they might know another way? They didn't) and wait for other options. Understandably, Joshua left and went to climb Whiteface instead. So would I have if I didn't have a 46 to finish…
I spent the morning sitting outside Olympic Center, posting on facebook trying to get myself unstuck. Amazingly, it worked, the "Aspiring for Bill Finan" group came through, and less than an hour later Amanda and Jaryn showed up, and asked me if I needed a ride to the Loj!
After that miraculous bailout, and filling up my water at the info center, I was under way! I finally had feet on the trail, only fifteen hours late, but still with a (close) finish possible in time for the celebration dinner Danielle and James had planned for me.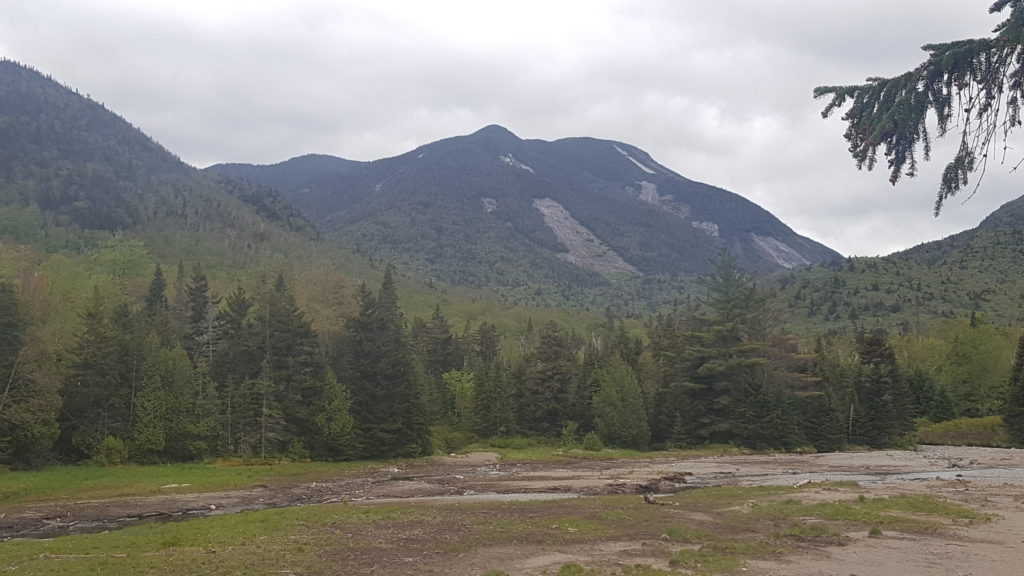 I only had to get about three minutes past the trail register though to run right into Rangers. They stopped me on the trail, made me unpack my pack performatively and show them what I had and didn't have, then show them my route on the map. (of course they ignored the kid going in right behind me looking like he was training for Šerpa Rallye, hauling ass at 5-6mph with an inordinately heavy-looking pack almost twice his own height!) I didn't think they would understand that I was planning on doing the whole thing in one 30ish-hour death march, so I did at least have the foresight to carry a Ranger-friendly map showing legal campsites outside the bear canister area. I still think they had some serious doubts about me though, since it seemed like they were following 20 yards or so behind me the whole way to Marcy Dam, at my exact pace! I made sure to register accurately and precisely at every register box, with the exact story I told them, and yet there they were, at Marcy Dam, at Avalanche Pass, at Avalanche Lake, at Lake Colden, at the Flowed Lands… I was fully convinced that one guy from the Aspiring group made good on his threat to pre-call the rangers on me and ensure that I would be rescued, ticketed or both!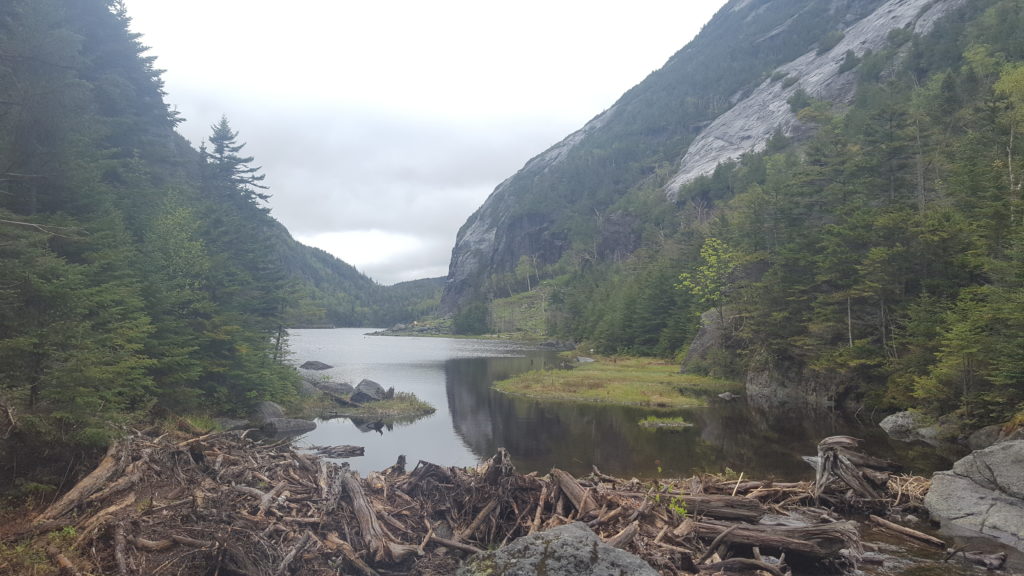 Other than them though it was a beautiful hike, no flies or mosquitoes to be found, and only slightly uncooperative weather, occasional splashes of rain to keep the rocks slick in Avalanche pass and on the descent to Hanging Spear were about all. On the way up Avalanche pass I met a few trail workers hacking out a new ski trail near the pass, and on the other side, one backpacker who was very confused about my choice of approach for Allen, but mostly I had the woods to myself on a summer weekend, which was more than a little disconcerting, I expected to see hikers everywhere passing through the busiest camping areas of the high peaks.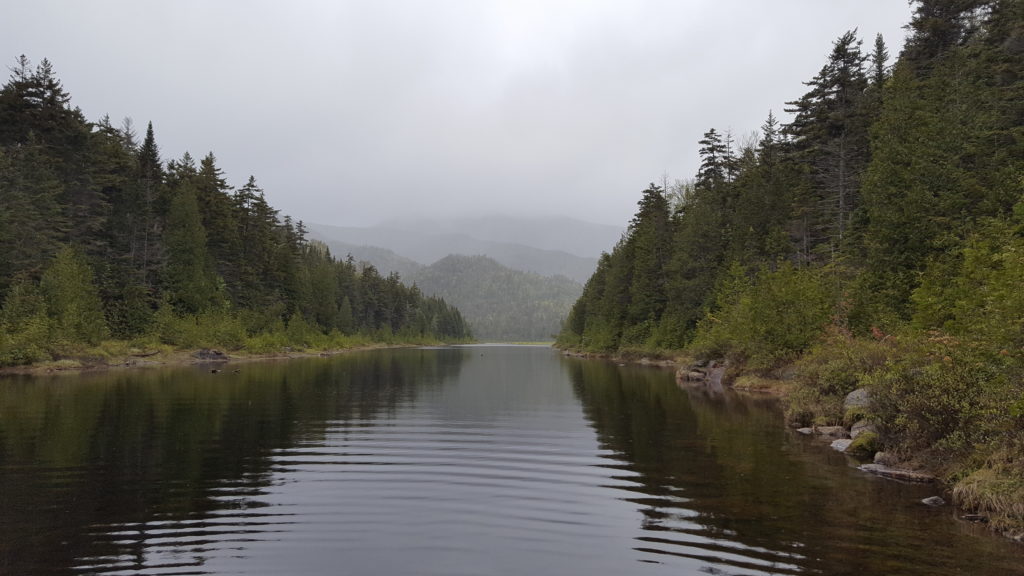 I finally got the rangers off my trail when I made the turn for Hanging Spear falls, and stopped for a late lunch there, taking in the beauty of what has to be a very rarely seen waterfall, judging by the overgrown trail, more hidden than many herd paths I've seen.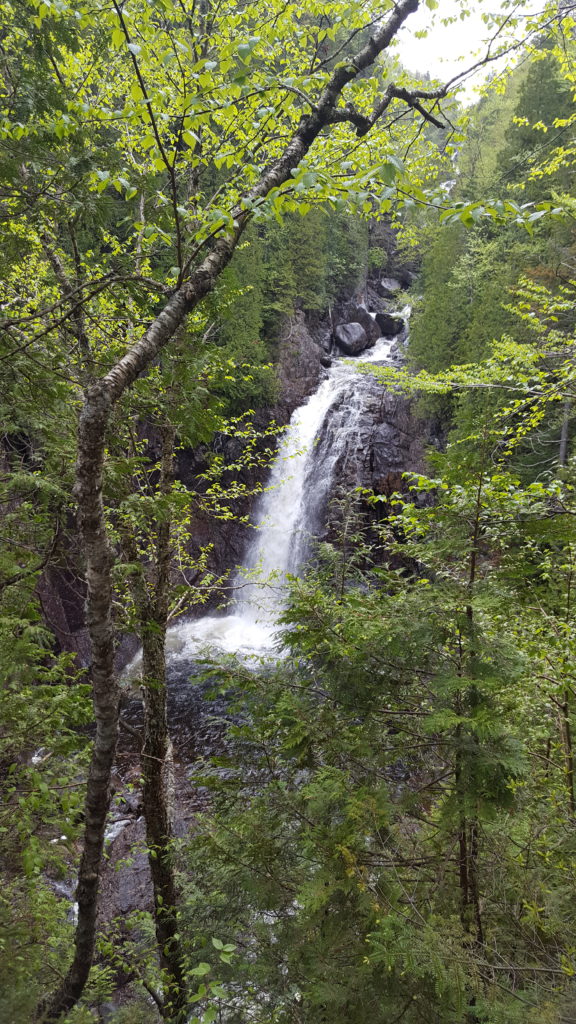 But after a little more descent than I had expected or really wanted to see, I got to a dirt road, and correctly decided to ignore the trail arrow in hopes of finding a shortcut to Allen. After crossing a deeply flooded road at Twin Brook, I was rewarded with the trail register, and decided to take a nap for an hour or two on the soft sand while it was still warm, to get ready for what would inevitably be a night on the Allen Slide regardless at this point.
NIGHT 1: #42 Allen
En infierno me duermo, porque el Infierno es el única verdad
en mi vida, en el oscuro me mantiene
(The Mars Volta, "Ásilos Magdalena")
It was all too appropriate to put Allen in the 42 spot… both for its intergalactic difficulty (built up not in my head space, but in justifiable reputation), and for its overbearing importance as the answer to, if not life or the universe, everything at least: there was no 46 without Allen, and with Allen behind me, the rest would only be molehills, even if they were in fact higher, and perhaps even steeper, they weren't covered in red slime or dragging around reputations of being the hardest peak in the northeast.
I didn't need long to find the discouraging words I'd hoped not to hear. In the inner register was fresh news of a rescue, just four days old. If there was any positive, at least they were rescued from the top, but they were rescued nonetheless. [This turned out to be a member of ADKHighPeaks, and you can read his own Allen adventure here] I signed into the register, hoping I wouldn't be subject to a rescue of my own, just after 8pm. The daylight ran out shortly before Skylight brook, and I was just where I thought I wanted to be: on the steep part of Allen at night, where maybe I couldn't see the magnitude of it, and could just climb up to the top with created ignorance, the frustration of a few failed attempts, and a whole lot of covfefe.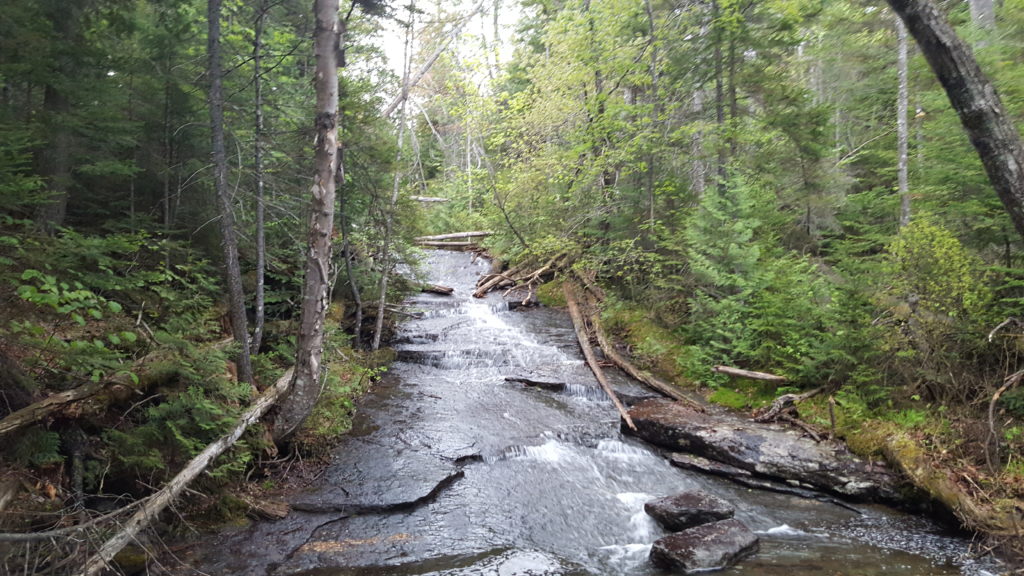 I am not going to pretend that it was in any way easy or enjoyable. I don't think it's a secret anymore that I fucking hate this mountain, and would gladly have given up just about anything to not have seen it this time, let alone having to go back. While I didn't have too much of a problem with the red slime itself, the on-and-off rain kept everything wetter than it needed to be, and ensured a steady flow running down the slide rocks. The sides of the trail weren't all that much better, especially above the slide crossing; relentlessly steep mud, with slippery rocks and roots to grab onto, the only positive being less exposure.
Adding insult to the ever-mounting risk of injury, plunging temperatures turned the rain into a wind-driven snow around 4100 feet, and the lashing of the cold wind started to freeze the slide. I wasn't about to turn around this close again though, but as soon as I got to the summit ridge and found the high point, I turned around and tried to get down the mountain as fast as I possibly could. Which turned out to take almost as long as getting up it did, with the fresh ice and still increasing flow of slide water. I only took two real falls on the upper part of the mountain — just enough to make either leg look like it had a brush with a cheese grater — and after just about two hours of hair-raising descent, I was back to the Allen Brook waterfall.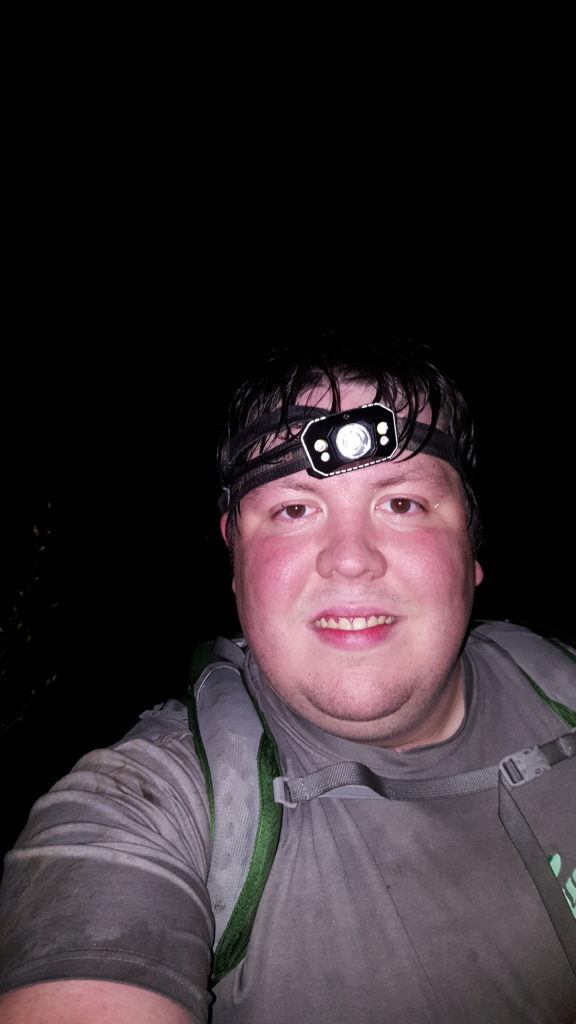 And this is where Murphy decided to take over. Apparently unwilling to let me escape Allen mostly unscathed, I slipped and fell on the first steepish part of the easy terrain, and landed HARD, flat on my backpack, badly enough to knock the wind out of myself. I knew something was wrong when I tried to yell "Fuck!" and only managed to slurp out something like "Gmrl!"… within a few eternal seconds I was able to breathe again, and as far as I could tell my head stayed entirely uninvolved so I escaped a concussion, but I wasn't about to move for a minute regardless.
Once I got started again, I didn't have to go too far until I thought I wandered off trail. It only took a minute to get back on track, when I heard a tremendous "Crack!" directly in front of me. It was an enormous birch tree that gave up and decided to lay down right across the trail, landing about twenty feet in front of me. A few seconds later, destabilized from the roots by the falling birch, two almost-as-large spruces decided to follow, and I only just managed to dive out of range of the branches before a fourth tree fell onto the exact same path.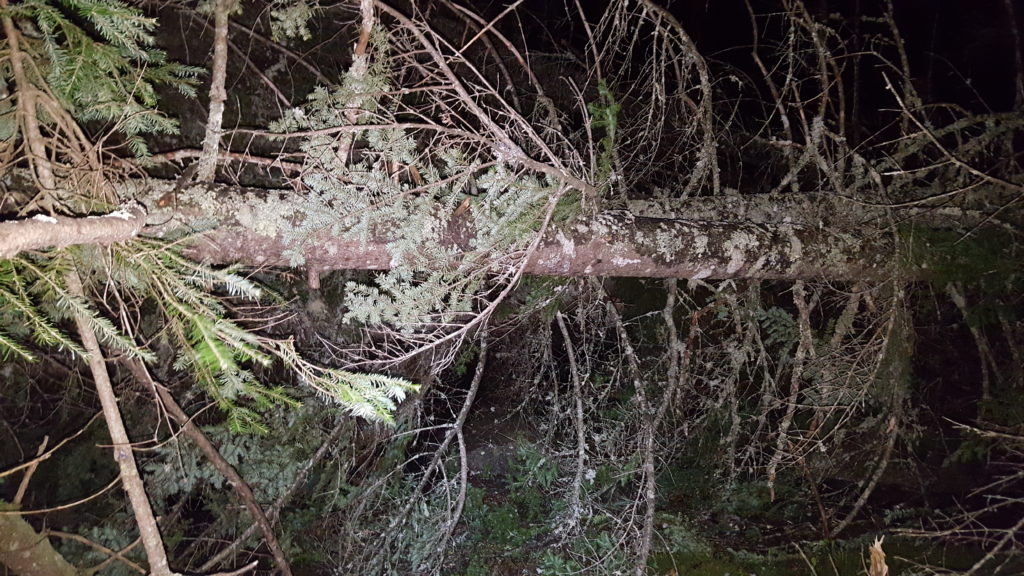 Once it seemed like the most extremely imminent threat of widowmakers had passed, I climbed through the too-fresh blowdown and found my way back to trail. And stepped into something very, very stinky that made a most disgusting "splat!". I looked down and it was shit. Fresh shit. I took a few more steps, shuffling along to try to get the stench off my boot, when I saw exactly HOW fresh.
The bear was still there!
Maybe fifteen feet to my left, I caught a small female bear (or cub? I don't know how to tell) in the beam of my headlamp. She didn't seem all that interested in me or my food though… just gave a very disapproving snort at me, growled resignedly, and walked away back up the mountain.
With all of that behind me, I made it to Skylight Brook just after 3am, and decided to at least lay down and rest for a couple of hours there even if I ended up being too stressed to sleep. Considering the circumstances, with an empty trail register to start the night, and known bear nearby, I decided it would probably be safe (and maybe help me relax) to have some music playing, and turned on the one radio station that would come in… next thing I knew, Bach's E Major partita put me to sleep, and it was 6:15am and light already…
DAY 2: Skylight Brook to #43 Marshall to Lake Colden
"Stars when you shine, you know how I feel
Scent of the pine, you know how I feel
Yeah, freedom is mine, and I know how I feel..
It's a new dawn, it's a new day, it's a new life for me, and I'm feelin' good."
(Nina Simone, "Feelin' Good")
On the way out of there, I should have realized something was wrong sooner when I didn't gain any elevation, and just kept following one of the branches of Skylight Brook to the southwest. By the time I thought to GPS it, I was half a mile off course down either an old herd path or an actual game trail, through terrain I didn't particularly want to revisit, and it was time to make a backup plan. I found an old road on the map that seemed like a good enough way out, and cut through some undergrown, soft-floored birch-spruce forest, only falling into a few thigh- to waist-deep spruce holes, and did in fact hit the road.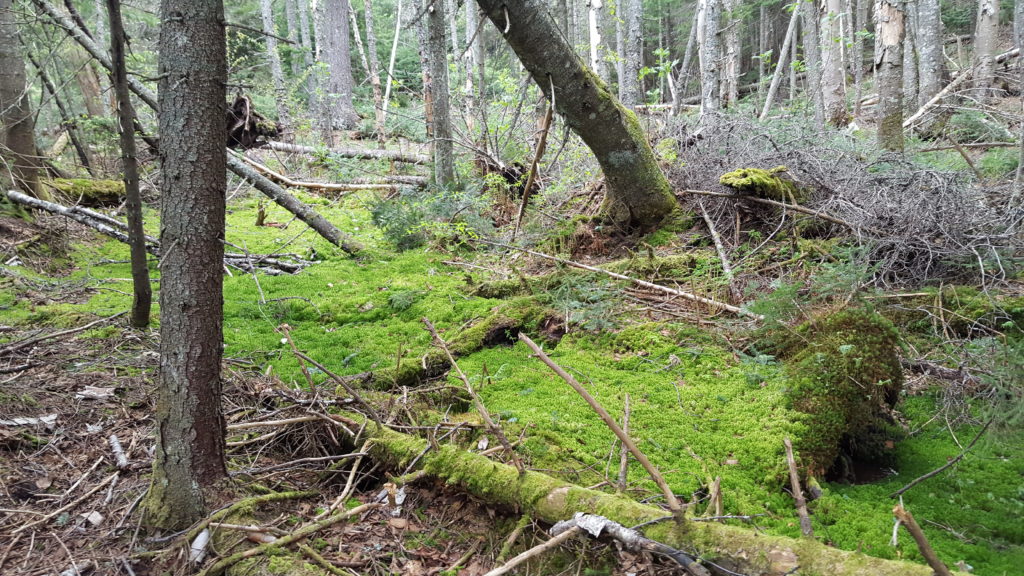 The detour probably cost me an extra mile and a half, maybe more, on what should have been a straightforward hour of hiking, and I didn't make it back to the inner register (pointed toward Allen again) until 8:45, continuing to find ways to hemorrhage time at every opportunity off my hope of a Saturday night finish.
If there was any positive, at least the sun was shining, and it wasn't particularly cold anymore, on the hike back up the Hanging Spear Falls trail, and back along the Flowed Lands, to the Herbert Brook trail. It would have been nice if I wasn't absolutely exhausted from having three hours sleep each of the past two nights, and climbing Allen in the middle of it all… but 42ers can't be choosers, not with a finish on the line. So after lunch at the Herbert Brook lean-to, there was no way to go but up.
At first I thought I was literally supposed to follow the actual brook the entire way up Marshall, and I started seeing shades of Allen all over again, and not in a good way. I had defeated my nemesis once – I didn't expect to then have to go to battle with his little brother right afterward – but I figured I could do it if I absolutely had to.
I stuck with the brook for a few more minutes until I saw hikers coming up fast behind me… and on a trail. I let them pass, thanked them for the tip, and started trudging up the herd path. After a while, the path opened up onto slide-like rock which was much faster and easier to climb, then the steep part began in earnest, following along and frequently crossing the brook. Somewhere around the 4000 line, I lost track of one of the brook crossings, and followed one of Marshall's legendary paths to nowhere. I got far enough up though that there was no question but to stick with it until it finally faded to nothing, then bushwhack from there. Which actually wasn't too bad. The "Rule of Up" has been my friend before, and it worked again here, eventually regaining a useless little path, which pointed to a bigger path, which pointed to the actual summit.
By this point, I could just feel that there was no way I was going on all the way to the finish without a good rest; if there had been any chance before, the bushwhack completely ran me out of gas, and the fruitless back-and-forth from the summit to the various false summits, looking for a path that didn't end, and did in fact continue to the Shepherds Tooth, didn't help. I did at least find some beautiful views on a notoriously treed-in summit, and a spot with enough cell signal to call James and let him know I was wildly off schedule and nearing my capacity physically if not mentally yet.
We eventually developed a plan to start early in the morning on the Macintyres instead, and I would spend the night in the abandoned plane wreck in Cold Brook Pass — assuming I could get to the pass. Path after path that I tried didn't get there, the closest I could get was the northern false summit (awesome view of Iroquois, at least) with no obvious way down from there, so I went to the summit Yet Again to go give Herbert Brook another try.
From there, I got back down to the slide, and just laid out on the slide rocks for a quick rest which turned into another nap, and with it thoroughly dark (probably for the better, considering I didn't have a bear canister; this trip was now well past its intended length, and I had no intention of spending a second night in the woods before passing through the Loj!), continued down to the lean-to, and got an unwelcome surprise from my alarm at 4am.
DAY 3: Herbert Brook to #44 Iroquois to #45 Algonquin to #46 Wright
"The purpose of this life is to live this life with purpose,
so don't get trapped inside your safety net"
(Wookiefoot, "All Together")
I threw everything into my pack as quickly as I could, forced my unruly boots back onto my newly size-15 feet (ouch!), and started down the trail to the Colden Interior Outpost to meet James for the grand finale. By the growing light of the approaching sunrise, I passed Colden Dam uneventfully enough, then when I was warmed up enough to stop for a few minutes, ate at an overlook on the lake, and watched the sun illuminate the highest peaks behind me. I would have loved to stay for the actual sun, but there wasn't time… I was due at the Outpost at 5.30.
I only missed by a few minutes, and passed right out on the bridge at Macintyre Brook. Not too long afterward, James woke me back up, and we started up the trail.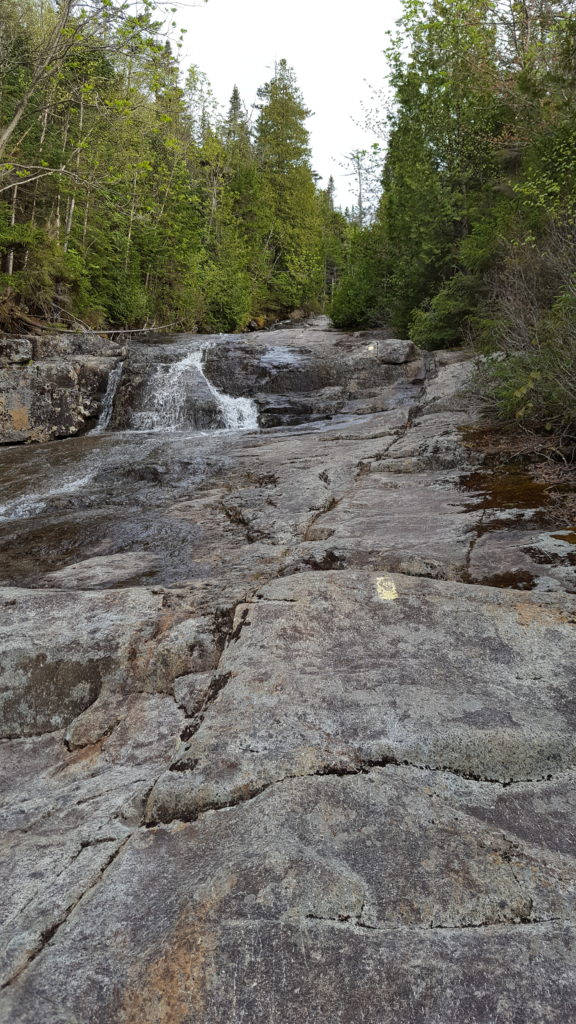 I knew what to expect: the thing was relentlessly steep, just as advertised, but at least it wasn't particularly wet or slippery, even if it did gain a vertical half-mile in barely over a horizontal mile. All I could think the entire way though was that my exhausted, broken body couldn't take any more. If I was by myself, this was well after the point I would have called it and just headed back to the Loj, to be continued another weekend. But with someone who had come all this way to be my motivator, not to mention celebrator and ride home, there was truly no way to go but up, running on fumes and the faith that I'd find my way down that mountain somehow, that the finish line being in sight would get me moving again.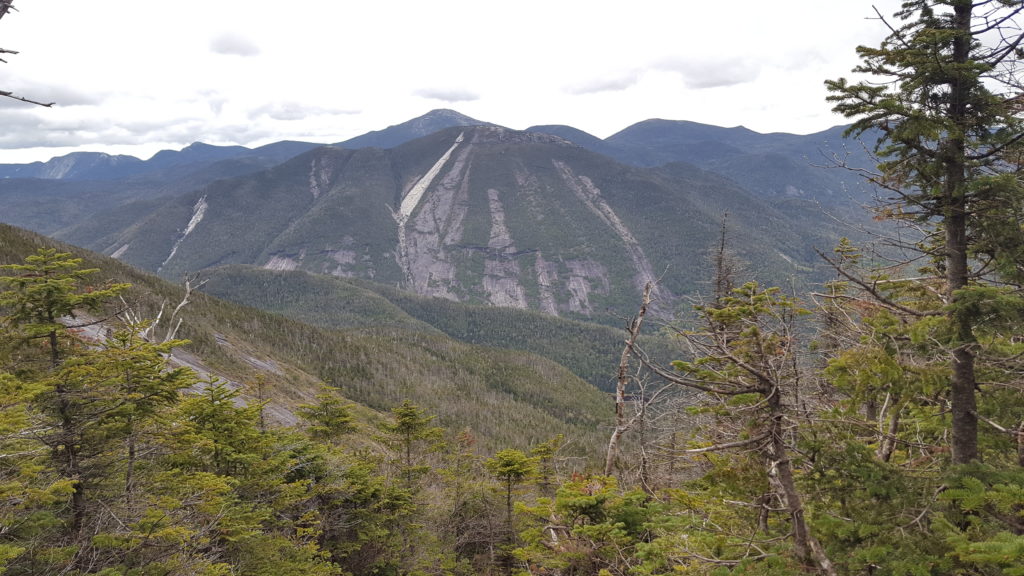 Mentally, it was far from my brightest time. Pretty much all I did was apologize for being so slow on the climb… not only much slower than James, but even far slower than my own pace from Friday, I could tell just what I'd done to myself on an ambitious route made only more ambitious by the fact that I'd gotten myself pretty well lost twice, and started the whole thing after being up all night. So I was constantly sorry, and made no hesitation to express my feelings of inadequacy for this final journey. I'd hoped in the back of my mind that he would agree with me. Not that I was unfit to be a 46er – getting Allen and Marshall the way I did erased any doubt I had of that fact – but just that I was in no shape to finish here and now, with a raging chafe, noncompliant knees, stiff ankles, and a bevy of blisters extremely pregnant with entire litters of blisterlings about to make my last few miles even less bearable.
I tried to eat and drink as much as I could, which seemed to help up to about 4000 feet, but by the last push up to the col, even that wasn't working. It was nothing but willpower to get there; willpower half crushed every time the treeline I thought I saw above me turned out to be an illusion. But at last, one of them was real, and we were in the col. Actually, quite a bit on the Algonquin side of the col, easily a hundred feet higher than where I expected to be at the junction! From here, I could see 44 and 45 in the near distance.
I dropped my pack, took a quick break, stuffed my face with the last of my jerky and still more trail mix, and we headed for Iroquois. It only took until the first hump of Boundary for me to regret not bringing water. But there was no way to go but out and back for 44, and that's just what I did, finding only a couple of difficult, technical things to worry about on the path.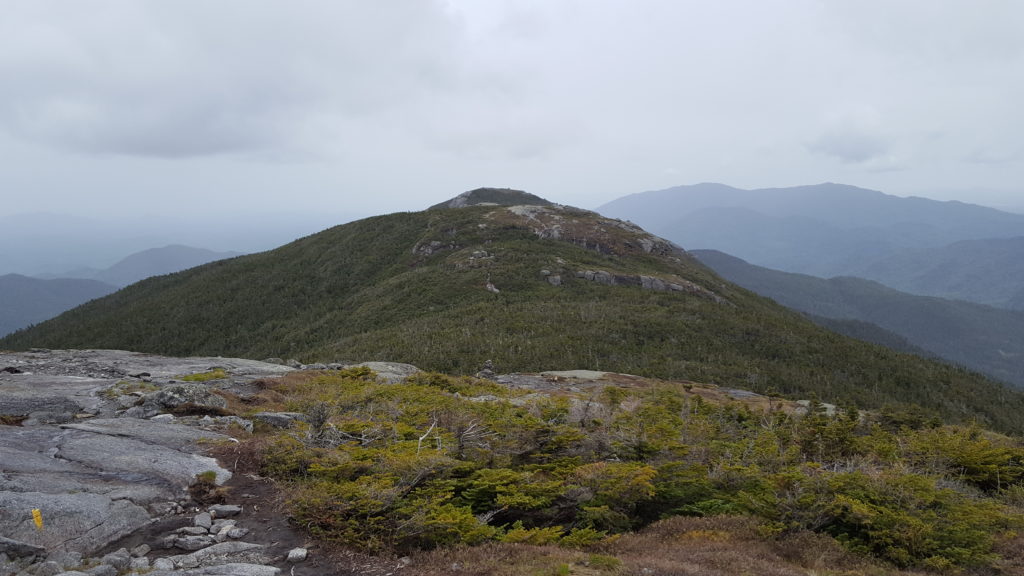 The hike back to the col was nothing but thirsty, which I think was even getting to my mind, because somewhere around here, I started repeatedly referring to my last peak as "Phelps" [sic], a mountain I hadn't even given any thought to since the night in 2008 I climbed it with Christian and we watched a May-blizzard roll in toward Colden, carrying thunder, lightning, snow and heavy winds, that we completely ignored and climbed through anyway… I guess everyone deserves one frostbite in their lifetime. Although I did learn a useful tactic from James: Life Savers can practically be literal life savers in this situation, doing wonders for dry mouth even in the absence of a water source. Regardless, I think being away from water probably slowed me down more than not having a pack made me any faster. While I was some kind of idiot dragging an overnight pack up Allen, and through the technical rock and blowdown and all that, there weren't really any obstacles on Iroquois that I couldn't have done without the pack, and with that pack, at least I would have had water.
Algonquin was a rare moment of quick and easy: grippy rock, relatively short ascent, and 45 was in the books.
What was unsettling about Algonquin, though, since nothing can go perfectly here, was incoming rain and clouds. On the summit we were in and out of the clouds, obscuring what would have been a commanding view, and with Wright and the real finish still ahead of me, and time running out, I wanted to be on my way as soon as possible, I'm not sure I even stopped on the summit!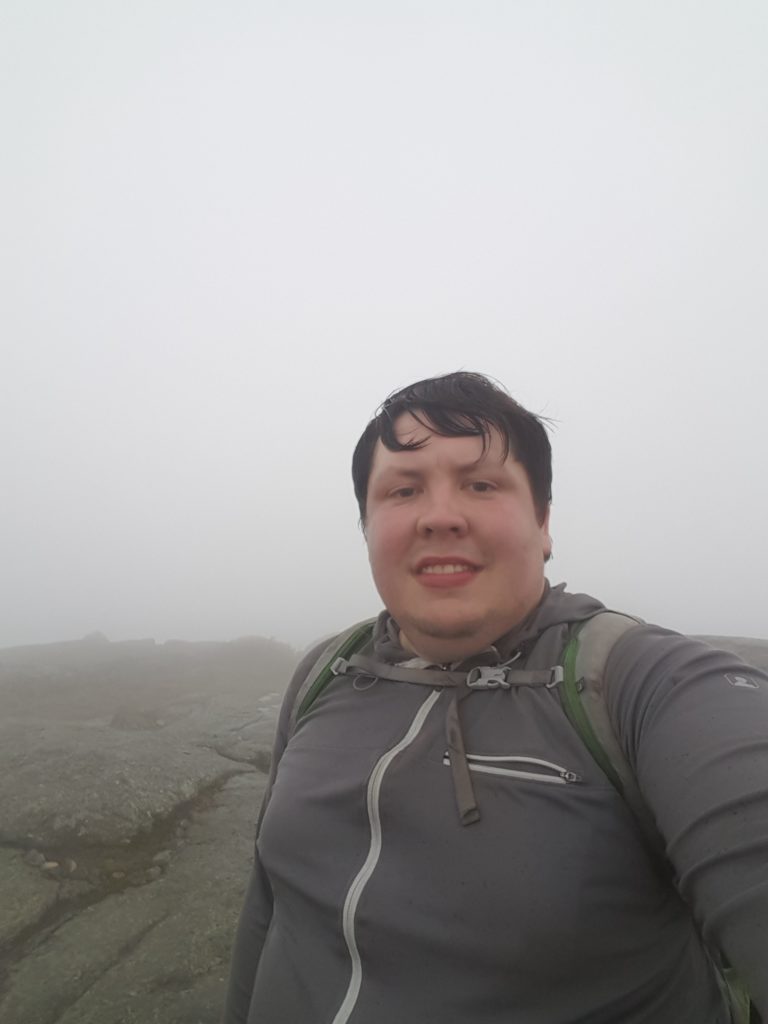 The descent down to Wright in the rain was much more slow, steep and slippery than I remembered the ascent back in 2014 having been; of course that was on a clear September night, and the first night of the trip no less… but we did eventually make it to the Wright junction, at a far later than desirable 4:30, and started climbing from there up yet more slick wet rock.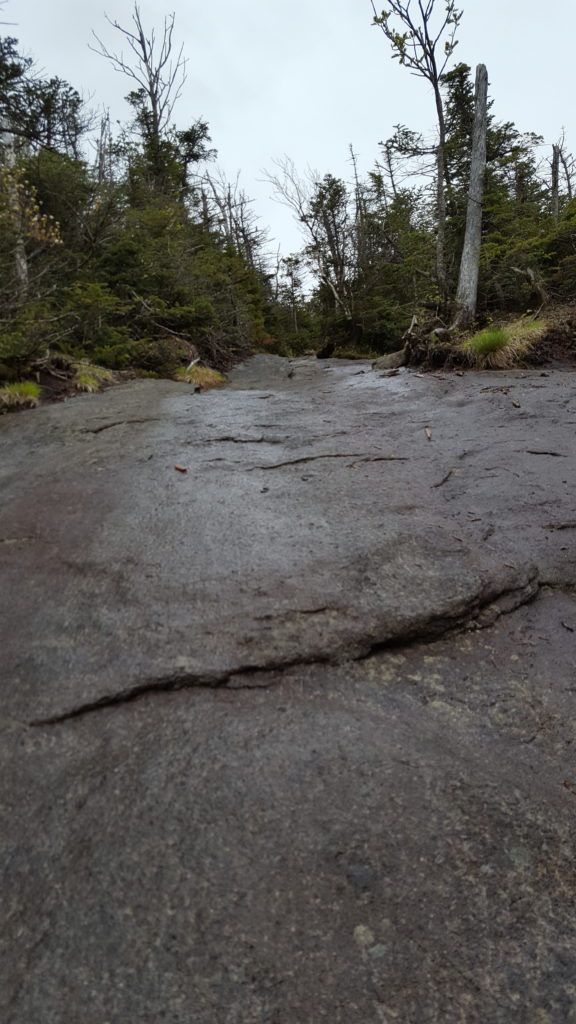 At the top, The Notorious W.I.N.D. was there in style, whipping up alternate bands of clouds, rain and hurricane gusts as we approached the summit, but eventually we got to the peak, and James surprised me with a 46R patch and a sign celebrating the accomplishment, which I tried to hold up for a photo in the roaring wind and now unseasonable SNOW the mountain had decided to throw my way. (Of course it's only traditional to have out-of-season snow on my ascents; it was far from the first time) But, despite the awful weather that made me want to finish celebrating and get the fuck below treeline as fast as I could, I was a 46er! The day I thought would never come was here!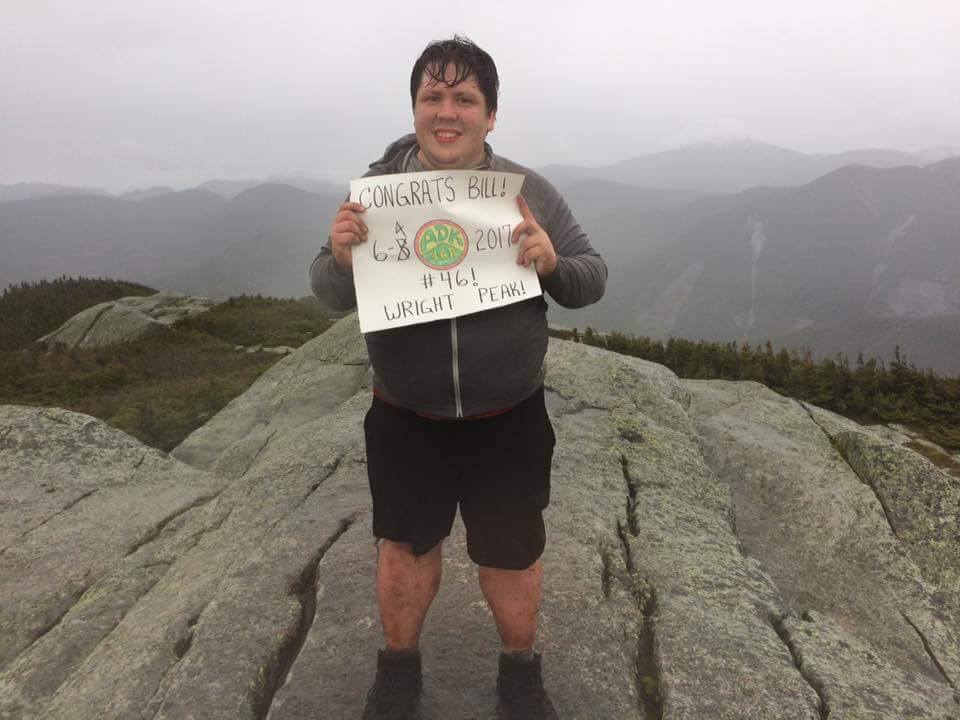 Now only one thing remained: getting down the damn mountain.
NIGHT 3: #46 Wright to Route 28
"In the darkest night a sliver still shines,
so pick up your head and walk, if you're going through hell don't stop!
Cause in the end it's all OK, and if it's not OK it's not the end,
If you're going through hell don't stop!"
(Wookiefoot, "Long Road To Shangri-la")
Coming down Wright to the junction I still had a decent bit of adrenaline left in me from the 46, and we made it to the packs in a reasonable amount of time, I even got through the technical part with a total absence of grace, but enough momentum on my side to only really crash-land once. At the packs, I brought the celebratory beers, which we pretty much chugged, and turned down the mountain toward the Loj.
And this is where things really started falling apart for me. With nothing but the slog to the real finish line ahead of me, I got nothing but slower and slower, letting the pain take over, and slipping and falling onto my already thoroughly kicked-to-shit ass at nearly every opportunity. After about an hour on the miserable descent, James had rightfully had enough and gone ahead to the car to get some sleep before the drive back south, something which I agreed was probably a good idea, since nothing in my body had any energy to move fast, and it was mostly just my brain forcing it to move forward at all.
Just after I used every remaining minute of daylight, I took one more break to eat as much as I could stomach and try to get some energy for the final push, downing a couple of cliff bars and the last beer. I knew I was in trouble as soon as I got my headlamp out: the dreaded yellow "Low Battery" light was on! And I was still somewhere much higher up and further into the woods than I wanted to be.
I ran out of water just after Macintyre Brook, and decided, probably idiotically, that I just didn't have the energy or motivation to refill it, not so close to the finish. But "close" turned out to just be an exaggeration. Or at least a misconception reserved for the more able-bodied. When every step feels like hot coals from the practically whole-foot-sized blisters I'd somehow accrued that day (my feet were *almost* fine at the Herbert lean-to, they were the least of my pain worries), and the energy supply ran out a while ago, nothing is fast.
Hour after hour seemed to drag on, and eventually I saw the junction for the Whales Tail Trail, and then after an idiot wrong turn (I refused to believe that the trail back to the Loj could be going uphill, and somehow did a 180 on my own course), and going BACK to that junction, and turning around AGAIN, I made it to the Van Hoevenburg Trail junction.
With the finish really, really near this time, I managed to get moving just a bit faster, and then, darkness.
My headlamp had gone out.
Not only was I less than a mile from the finish, but I was less than a mile from the finish, in the fucking dark, outrageously late, and everything hurt. It took me way longer than it should have to remember that my phone had a flashlight app. At least what DIDN'T take me very long was to figure out that I could stick the phone inside the headband of my light, and still effectively have a headlamp. (Thanks engineering school I guess?)
I made it through the trail like that, saw the trail register, signed out as a new 46er, and now the total finish line was just about in sight… one more bend, and I could see it, the only car left in the parking lot!
Finally, at 11:45pm, I was at James's car, and managed to wake him up. I was leaning against the car trying to force my boots off when Amanda showed up too, wondering what had become of us I was so late. And that was that; we were on our way home.
I spent most of the car ride on the delirium spectrum, not quite asleep but certainly nowhere near awake, watching landmarks go by with no real sense of time; Saranac Lake, Tupper Lake, Old Forge all looking almost the same at this time of night. I tried a few times to sort my mind out enough to look up when the bus or train home was, but that task had thoroughly stumped me, so I gave up and agreed to let sleep win for a while, I figured I'd wake up somewhere better than where I was, at least.
DAY 4: Route 28 to Rochester
"Pleasure spiked with pain
That motherfucker's always spiked with pain"
(Red Hot Chili Peppers, "Aeroplane")
I finally came to, still in his car, at a Stewarts not all that far from Utica. Of course there was still no cell signal, and I still didn't know when I was getting home, but James had to get to work, and the best possible plan for either of us was to leave me at the station. At least that way I didn't have to go anywhere to get home, I just had to wait until whenever that was, and my job allows work from "home" so I could theoretically not even have to call in, wouldn't have to tell anyone I was stranded.
By the time we got to Utica, EVERYTHING hurt. More. I had to almost totally unlace my boots to convince them to go on my feet, and even then, walking without something to hold onto was next to impossible. I had about a five hour wait at the station for my train home, but I didn't even care.
I tried to do some work, and I think I was at least marginally productive maybe… in between falling asleep in the middle of writing emails, but whatever. It was over, and I was on my way back, and there was nothing left to do now but the 46R paperwork, and recovering from the worst case of hiking pain I think I've ever had…