Ever struggled to find people to explore with, or places to go? Wondered whatever happened to the exploring scene? Fed up with UER? We're starting a league of unremarkable explorers right here in Upstate NY!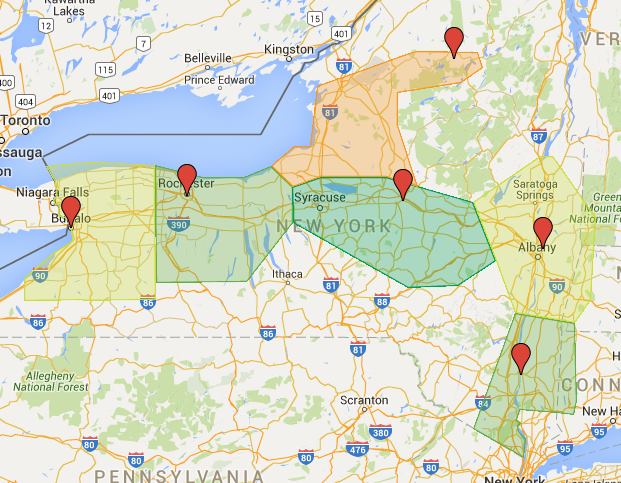 Starting in the spring of 2016, we will have five groups to join and see everything you want to explore. No experience necessary – all you need is a sense of adventure, a flashlight, and a few weekends to travel around to other upstate cities.
We will have three types of meetups this summer, to cover a wide range of interests and experience levels.
Regular meet: Open to everyone; one group hosts another for a day of exploring accessible, interesting locations. Entrances are relatively easy (no high climbing, fences, or active security guards will be involved). Each crew will have 8 of these over the summer, 4 home and 4 away.
All-star meet: A more in-depth look at one city, with places that may involve a higher level of risk, for your local group. These locations may be fenced off or secured. Be prepared for more athletic exploring, and the possibility of failure.
North Country:Our thirteenth sesqui-annual trip to the abandoned industrial wasteland north of the Adirondacks. Spend a weekend camping on a beautiful northern lake and exploring enormous ruins of paper mills, mines and company towns.
Meetups for this events TBA
Buffalo:
Rochester:
Central NY (Utica):
Albany (Troy):
Hudson Valley (Poughkeepsie):
May 1/7
Meet your local group and check out a few places in your area. Get to know the explorers near you, and make sure you know a few spots to explore,
May 14
Hudson Valley @ Albany
Central NY @ Rochester
May 29
Buffalo @ Hudson Valley
Albany @ Central NY
June 4
Albany all-star meet
June 11
Rochester @ Buffalo
Hudson Valley @ Central NY
June 18
Hudson Valley all-star meet
June 26
Albany @ Rochester
Central NY @ Buffalo
July 9
Rochester @ Hudson Valley
Buffalo @ Albany
July 16
Buffalo All-star meet
July 24
Central NY @ Hudson Valley
Rochester @ Albany
July 30
Central NY all-star meet
August 6
Hudson Valley @ Rochester
Albany @ Buffalo
August 13
Rochester all-star meet
August 20
Buffalo @ Central NY
Albany @ Hudson Valley
August 27
Buffalo @ Rochester
Central NY @ Albany
September 10
Rochester @ Central NY
Hudson Valley @ Buffalo
September 24-25
All 5 groups @ North Country