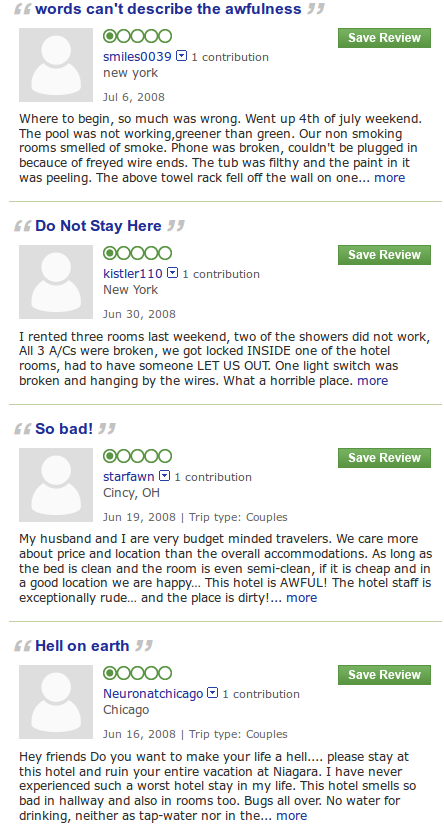 The TripAdvisor reviews said it all: "words can't describe the awfulness", "we got locked INSIDE", "please stay at this hotel and RUIN your entire vacation". It's no wonder that between woeful management and upkeep, a terrible economy, and the fact that the hotel itself was a lie ("Fallside" doesn't mean "walk half a mile through the ghetto or drive and pay a $20 state park toll"), the Fallside closed for the last time in the fall of 2008. While there was an apparent attempt to revive the place, judging by the signs proudly proclaiming new management and "Major Brand Chain Coming Soon!" on the roadside, the Fallside fell to the homeless and scrappers, and the optimistic signs were plastered over with Niagara County condemnation notices. While the street facing parts of the building looked almost ready to revive, the back corner told a different story: windows broken, boarded and smashed through again, letting us walk right into the restaurant and bar.
As one might expect the Fallside was built in the faux-classy style of so many other tourist traps, pretending to be five-star on a third-class budget, with all the tacky porno-kitsch it entails, making a mockery of luxury. (Note the carpeted ceiling tiles.)
I wonder if it was mold that did the place in, or if this happened after abandonment? The entire building was excessively hot and humid, with a tangible stink in the air… not terribly different from the TripAdvisor complaints, actually!

Imagine this stage filling up night after night with third-rate smooth jazz.

Or, evidently, loungey piano playing

Oof. Anyone bring their mask?

Night Audit – Inn on the River 12/1/08
Inn on the River was not the name on any of the signs. I wonder if this was done by a potential future owner?

And finally, a rooftop view of the hotel. This tower was the "falls view" portion, although even then the view consisted of a little bit of mist on the horizon.